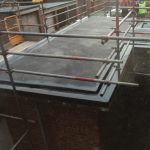 For flat roof repairs in Wirral choose the well-respected Central Asphalt. We service the North West, Wales and the entire surrounding areas. Our company offers the finest workmanship and products to keep flat roofs in like new condition. Flat roofs can leak if damaged. Water only needs the slightest little crack to begin its journey into your home. That small opportunity may not be obvious except for a small dip where water can accumulate. Neglect combined with hot sun, harsh storms, extraordinary weight from snow and the wear of time can take a toll large enough to warrant full roof replacement. Such trouble and expense can be avoided indefinitely with careful and timely inspections and repairs.
At Central Asphalt we have three locations from which to operate so we can offer a quick response to your asphalt roof repair needs. Mastic asphalt has proven to us over the last 30 years to be the best product for, in Wirral, flat roof repairs. We test new products as they become available. Some we stay with and others we don't. Mastic asphalt has proven itself to be the most waterproof product so we stick with what we know. We enjoy an excellent reputation for workmanship and we never compromise that with inferior quality products. We give our customers the best and then we guarantee it because we are confident the job is done right. Our repairs will last for years. Domestic and Commercial flat roof projects receive the same high standard repair.
As a roof ages and weathers with time, flat roof repairs in Wirral are inevitable. Keep them to a minimum by being proactive. Have having regular roof inspections and always after a big storm. If you have easy access to your roof, you can inspect it for storm damage, remove debris and check for puddled water and damaged gutters. All these hazards compromise the integrity of your flat roof. Contact Central Asphalt and we will come out and inspect it for you. You may miss some things we are trained to see. A little repair now is better than a big repair later.