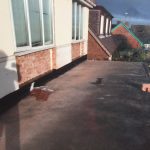 A flat roof specialist in Childwall is needed to install one of the cheapest methods of roofing. You can save a lot of time and money by installing a flat roof but if it is not correctly fitted and waterproofed it can give you endless trouble. The roof is usually made up of sheets of plywood which are covered with a waterproof membrane of roofing felt. This allows water to drain into the gutter surface. As long as the roof has a slight angle the water will run off. If the roof is completely flat the water will stand in pools and this usually leads to leaking.
Mastic asphalt is considered to be one of the most versatile and waterproof materials. In Childwall, flat roofing specialists use it to make sure that your roof does not leak. It can get into corners and cracks where the leaks usually start and can also be used for flooring applications. It can be used to seal dormer windows, which have a habit of leaking, and many other places in buildings which are susceptible to leaking during consistent or heavy rain. We provide a superior commercial roofing and flooring service that is cost effective and offers quality solutions to commercial properties. We are able to work to a tight deadline and fit in our work around your busy schedule.
We are known to be a flat roof specialist in Childwall. Contact Central Asphalt today and one of our experienced team will visit you to offer a quotation on your project. We are renowned for the quality of our workmanship and friendly, reliable service. We have offices in Merseyside and Lancashire and a division that covers Wales. Besides roofing we also offer all types of asphalt related projects which include basement and cellar treatments, waterproofing and garage floors. We can supply and fit tanking membranes, liquid plastics, balcony installations and other building work. For over 30 years we have been waterproofing homes and business premises providing value for money and high standards of workmanship.