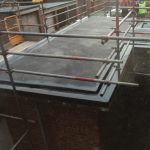 Flat roofing repairs in Sefton ensures the protection of a building's integrity. Experienced roofers are available at Central Asphalt. They know how to repair a flat roof correctly and efficiently. While flat roof repairs can be completed by a DIY handyman with some experience, it is best to leave it to a professional. A professional will have the years of experience, the right equipment and the knowledge to ensure that the repair job is completed to a high standard.
For your building in Sefton, flat roofing repairs begin with an assessment to determine what is causing the leak in the roof. This is done by a thorough examination of the roof, investigating all possible areas that are known to weaken and cause leaks. These areas are typically where any joints or seams have been used, the flashing and at the chimney, if there is one. Possible areas where pooling of rainwater may occur will also be investigated. Once the source of the problem has been identified, the correct procedures will be undertaken to repair the damaged roof.
Flat roofing repairs in Sefton are expertly completed by Central Asphalt. We are known for our excellent workmanship, quality products and affordable prices. Contact Central Asphalt if you require flat roofing repairs. You can book an initial consultation, and receive an estimate for the repair work. Our highly skilled team has many years' experience in installing and repairing flat roofs. Speak to us about what you need, and we will give you honest, accurate information on the best solution for your flat roofing repairs. All our work is guaranteed and insured. Don't let a leaking roof become a costly repair job, speak to the professionals at Central Asphalt for an efficient and affordable solution.