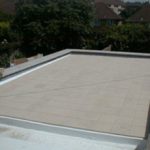 When we apply our special asphalt roofing in Crosby we can ensure that your roof is waterproof and secure in no time at all. Unfortunately there are many people out there who think that patching a flat roof is an easy task.  It is far more difficult to stop leaks in a flat roof than in a pitched roof. No matter how much sealant and felt you put on the roof if the gradient is not right you will still get leaks. You need someone with many years of experience in flat roof repairs to effectively stop the leak and ensure correct drainage of water off the roof.  Sometimes it is just a case of patching the worn areas on the roof but at other times it might mean a little reshaping to get the angles right.
If your room leaks in Crosby, asphalt roofing can fix your problem. There are various options available to repair a flat roof but this is something only the experts can advise you on. Some homes have flat roofs as part of their intrinsic design while others will only have a flat roof on a portion of the home. Whatever the problem may be you will need a professional roofer to examine the cause and recommend a solution.  Not only must the outer portion of the roof be examined but if there has been a leak for some time then the inside structure of the roof needs to be checked as well.  It is no use just fixing the leak when the roof structure may have become unsound.  This can only be done by professionals who know what to look for.
We supply some of the best asphalt roofing in Crosby. We have over 30 years of experience in the industry and have accumulated extensive knowledge on repairing and erecting flat roofs. Contact Central Asphalt today and arrange for a visit from our very experienced team. We offer a comprehensive range of flat roof materials and include asphalt, liquid plastic and felt roofing amongst our many services. Not only do we provide asphalt roofing, but also a number of other services including balcony installation and general building work. Additionally, we specialise in waterproofing tanks and other water storage systems.