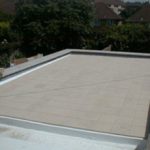 When you need flat roof repair in Knowsley, entrust the job to the specialists. Central Asphalt has extensive and long experience in this sector and our hundreds of delighted customers can vouch for the quality of our services and workmanship. Based in Merseyside, we cover the Lancashire and Wales areas and also cover the entire North West. Whatever the size and nature of your project, you can rely on us to provide an efficient, swift and cost-effective solution. We service domestic and commercial clients. It's important that you attend to roofing problems as soon as they are noticed. Otherwise you could end up with a much larger issue that affects the entire structure of your building, its contents and also the health and safety of occupants.
Flat roofs generally cause less problems than pitched ones. However, in Knowsley, flat roof repair usually becomes necessary due to age, poor workmanship while installing the waterproofing membrane or poor maintenance. In fact, "flat" roofs are not completely flat – they are slightly sloped to allow rain-water to drain off. They're very popular because they're cheaper, easier and faster to construct. However, unless the contractor is experienced, knowledgeable and meticulous, flat roofs can be a source of endless problems. Leakages and cracks can develop very easily, requiring huge expense and effort to repair. Flat roofs also allow build up of debris, dust, and dead leaves, causing drains to get blocked. Regular maintenance and cleaning are essential.
At Central Asphalt, we provide you with advice and assistance regarding all aspects of flat roof repair in Knowsley. Flat roofs are prone to a phenomenon called "alligatoring" – where the asphalt loses its elasticity and begins to crack and bubble. This means you need to have a complete replacement. Pooling of water after winter snow-melts, or rain can damage the roof too. For assistance with flat roof repair, contact Central Asphalt. We offer a range of services including mastic asphalt laying, membrane or felt installation, and masonry work according to your requirements and budget. It's important to get a long-term solution, rather than look for the cheapest. Speak to us for assistance, information and advice on our comprehensive range of services.