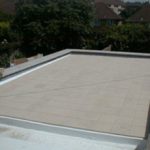 It may be necessary for flat roof repair in Southport if your roof is leaking or is damaged.
Poor workmanship or maintenance can be the root of the problem. Flat roofs continue to be one of the most popular choices when it comes to roofing as they are the most economical. With the proper care and maintenance, your roof can last for a long time. If you are experiencing issues with your roof, then it would be a good idea to call in the professionals to fix your roof as soon as possible.
Ignoring a leaking roof and delaying the repair work will only make matters worse and will result in larger bills at a later stage. In Southport, flat roof repair is an affordable option offered by Central Asphalt.  When you contact our roofers, they will first inspect your roof to determine the extent and cause of the damage. They will then find the most appropriate solution to the problem. Flat roofs may experience water pooling because an outlet may have been blocked by debris or other objects. It is necessary to carry out a yearly inspection to make sure that the roofs are in good condition. If you are not sure what the problems are, you can rely on our experienced team of roofers for honest and reliable advice. We provide competitively priced services and we also provide a first-class service. When you contact us to work on your flat roof, you can be sure of the quality of workmanship we are renowned for.
Our flat roof repair in Southport is reliable and professionally completed. For more details about a flat roof repair service, contact Central Asphalt.  We will provide a value for money service and high standards of workmanship in all the work we undertake. Speak to us about an estimate for the repair work you would like completed.